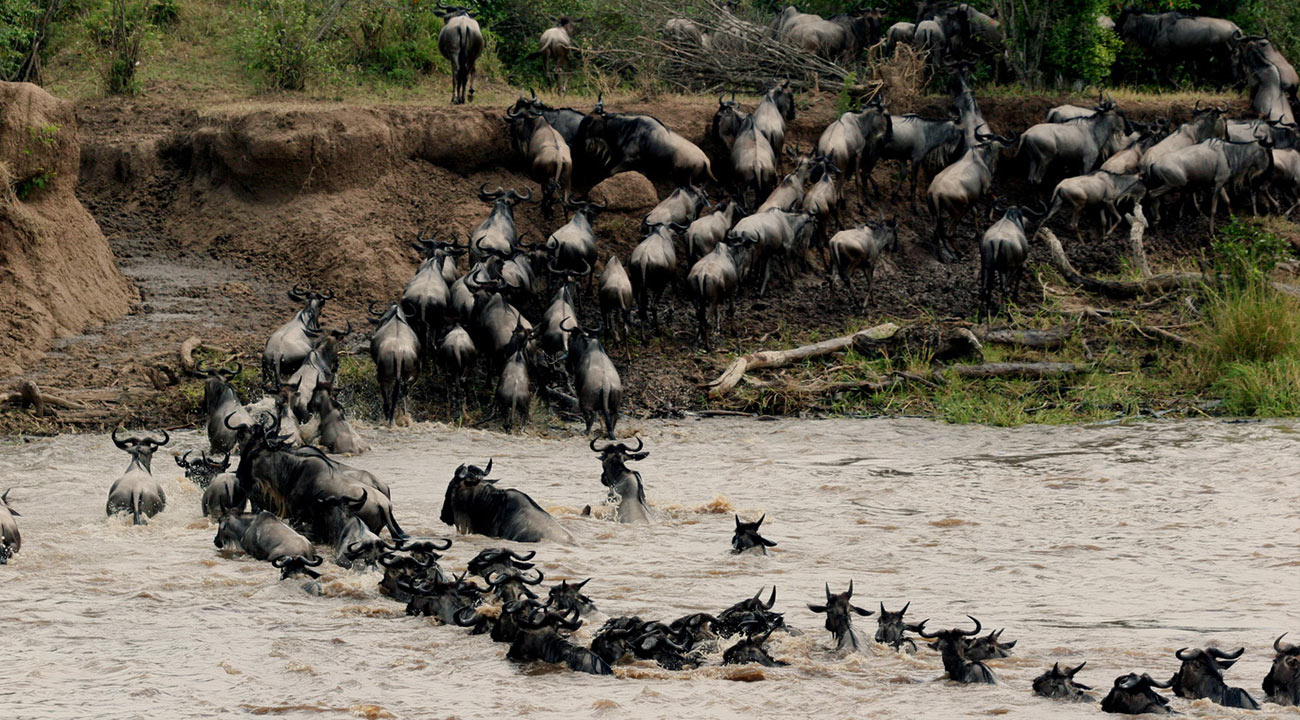 The Beauty of Wildebeest Migration Safari on a Hot Air Balloon
The Maasai Mara is Kenya's magical National reserve with lots of fun activities all year round. An African Wildebeest Migration Safari from spectacular game drives, safari walks, bird watching, not to mention the educational visits to the local Maasai village.The Maasai Mara offers the best African Wildebeest. Migration Safari.
Having said this, however, sometimes 'the viewing gets tough and the tough must get going.' One such rare activity that will spare you the long bumpy game drives and hours of tracking wildlife is the exquisite aerial adventure of the hot air balloon. The Hot Air Balloon is a spiritual uplifting experience that will drift you in silent meditation above the undulating Mara plains
With up to 8 lodges in the Mara offering the balloon flight booking, you can enjoy an early morning thrill of floating 1,000 feet in the air with the grand opportunity of bird's eye view of big game scattered across the rolling plains; and if you fly overhead during the migration season – July to September – you just might experience the spectacle of a life time. What's more, at an altitude of 1,000 feet above the ground at 6am, you will definitely fall in love with the heart-warming African Sunrise, a sight you would wish to remain static in.
The flights are available daily in the Mara with take-off from designated sites. Launch site locations depend on factors as flight safety away from animal disturbance, flight path and landing area. Therefore, it is important to note the distance of your lodge from the launch site and plan the exact pick up time by your safari vehicle in the morning of your balloon flight safari.
The Hot Air Balloons resemble big colored lollipops, each with a capacity to carry 12-16 people. On arrival for an African Wildebeest Migration Safari site, passengers' board on a section partitioned carrier basket – attached to a deflated balloon – with two passengers per section and the middle one for the pilot. Once the pilot turns on the burner flames, the balloon lifts off slowly and steady and soon you are airborne on your safari. The balloon flies high then lowers when an animal of interest is spotted before uplifting up high again. This is an enjoyable air safari with informative pilots and unparalleled scenery and landscape viewing. The experience lasts one hour and on landing back, you will top it off with a sumptuous Champagne breakfast served under an acacia shade.
The price per person for the African Wildebeest Migration Safari Hot air balloon ride ranges between US $400 – 450 but let not this be a deterrent considering the unforgettable experience you will have when you resolve to go on the flight. So, come ready with all your camera and gear and let's have a vantage floating experience over the Savannah.