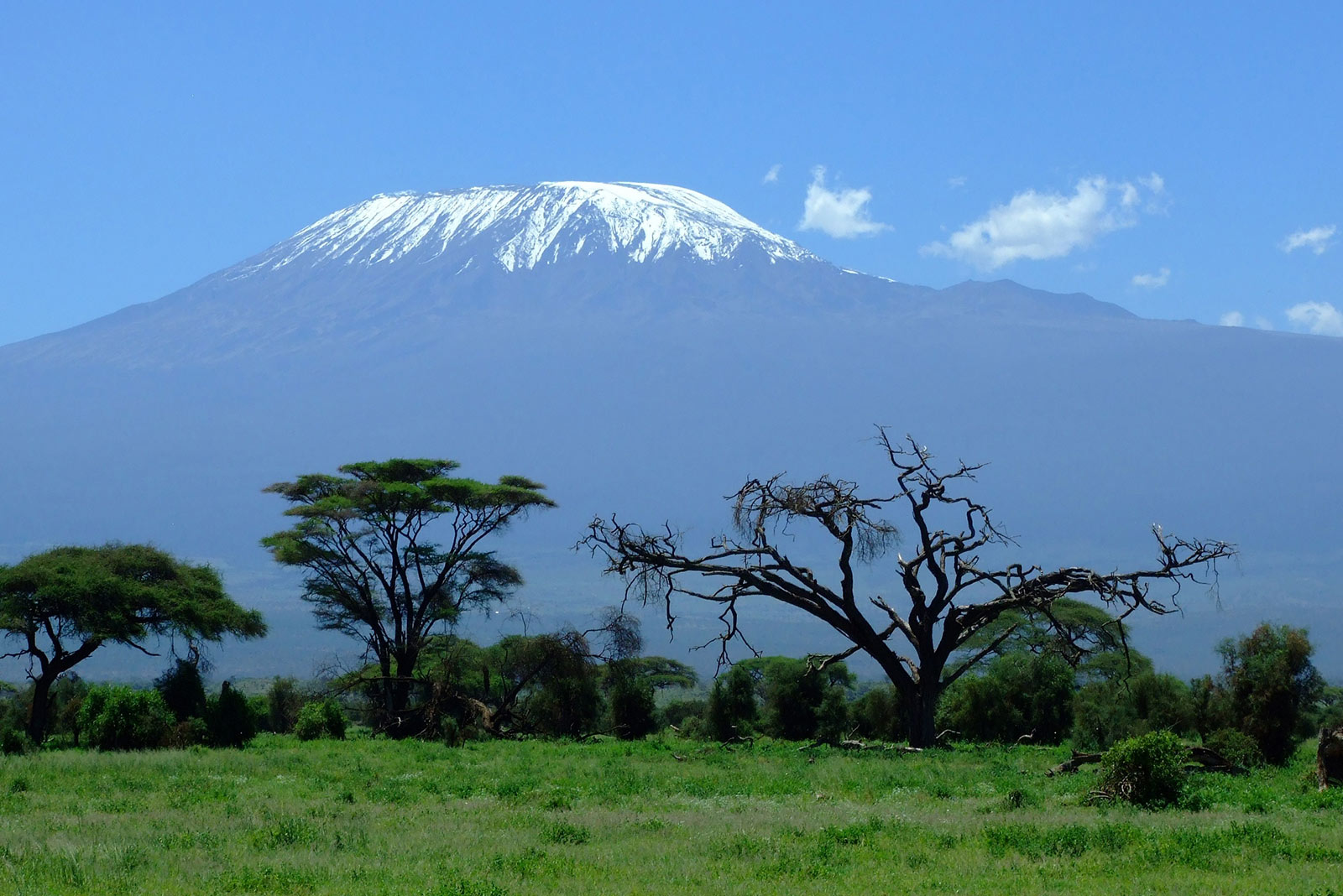 Staying At The Majestic Mount Kilimanjaro (A Review Of Kibo Safari Camp)
The camp is an architectural delight built to utilize and preserve its natural surroundings – it conveys the classic dreamy Hollywood image of Africa. It offers complete tranquillity and privacy and is picturesquely set in undulating savannah backdrop and dwarfed by the commanding presence of the pink-tinged, snow-capped peak of Mount Kilimanjaro, the highest freestanding mountain in the world. Kibo Safari Camp is definitely one of Kenya's best-kept secrets.
On arrival, after a rather bumpy dusty drive, the friendly staff enthusiastically welcome weary guests with refreshingly cool face towels and a much-needed glass of chilled fruit juice. Check-in is a breeze with the staff notifying guests of camp activities available and what to expect to make their stay unforgettable.
The camp's restaurant is openly terraced, set under acacia trees overlooking the majestic mountain. The garden-fresh fruits and vegetables served are picked from the camp's very own farm. The chef pampers guests with assorted and fine cuisines for all tastes every day. Any special meal requirements are met on request. The open terraced bar serves cold and warm drinks, cocktails, a wide collection of wines, spirits, soft drinks, juices, brandies and beers.
In the evenings after dinner, when the cloudless skies fill up with millions and millions of stars that seem much brighter than the city stars, Masai Morans entertain guests around a bonfire with traditional dances. Guests are encouraged to join in and try to jump or dance as well, if not better, as the Masai.
The camp has 73 en-suite spacious tents sheltered by 'makuti' roofs built to accommodate guest' needs and preferences. There are numerous Single, Double, Triple and Family tents (these can accommodate a maximum of eight persons). The beds, made tastefully with bush logs, are comfortable and locally designed. Decorated with African rustic furniture, mosquito nets, clothes rack, carpet, seat and writing desk, the tents are a home away from home.
Whether you would like to take a tour of Amboseli, enjoy a game drive, nature walk, relax around the pool with a stunning view, or enjoy spa treatments, Kibo Safari Camp ensures that guests are spoilt for choice. The camp also has an art gallery, team building and conferencing facilities.
Amboseli National Park is literally a stone's throw away from the camp. The park's fragile ecosystem displays an impressive wildlife variety, with more than 50 mammal species. The elephants are the kings of the park, no doubt. Memories are usually found near the swamp areas, where they share the cool waters with the hippos.
Amongst other herbivores, the park is also home to large resident populations of Burchell's zebras, Thomson's and Grants gazelles, Masai giraffe, warthog, impala and dik-dik. Tribes of Vervet monkeys and baboons also inhabit the scarce woodlands. Although difficult to spot the meat-eaters – lions, spotted hyenas, wild cats, jackals, caracals and cheetahs – are ever present.
More than 400 species of birds have been registered. The most commonly sighted are the pelican, kingfisher, eagle, ibis, crowned crane, heron, cattle egret, black-winged stilt, little grebe, Egyptian goose, pygmy falcon, Masai ostrich, vulture, yellow-necked spurfowl, kori bustard and hornbills. If game drives are not already included in your package, they can be booked at the camp.
Guests can take a van to a Masai village where they will spend the day visiting the 'manyattas' and experience the Masai way of life. This is an extra fee payable direct to the Masai guide before the tour begins.
This is not a 'camping experience' as you know it. Kibo Safari Camp is designed to thrill wildlife enthusiasts, first time and repeat travellers, nature lovers, photographers, birders and folks looking to get away from life's everyday hustle and bustle with intimate wildlife encounters and the nights to spoil you with the romance of Africa. The camp does not cater to the 'one size fits all' school of thought and they offer guests special tailor-made packages for the most memorable experiences!