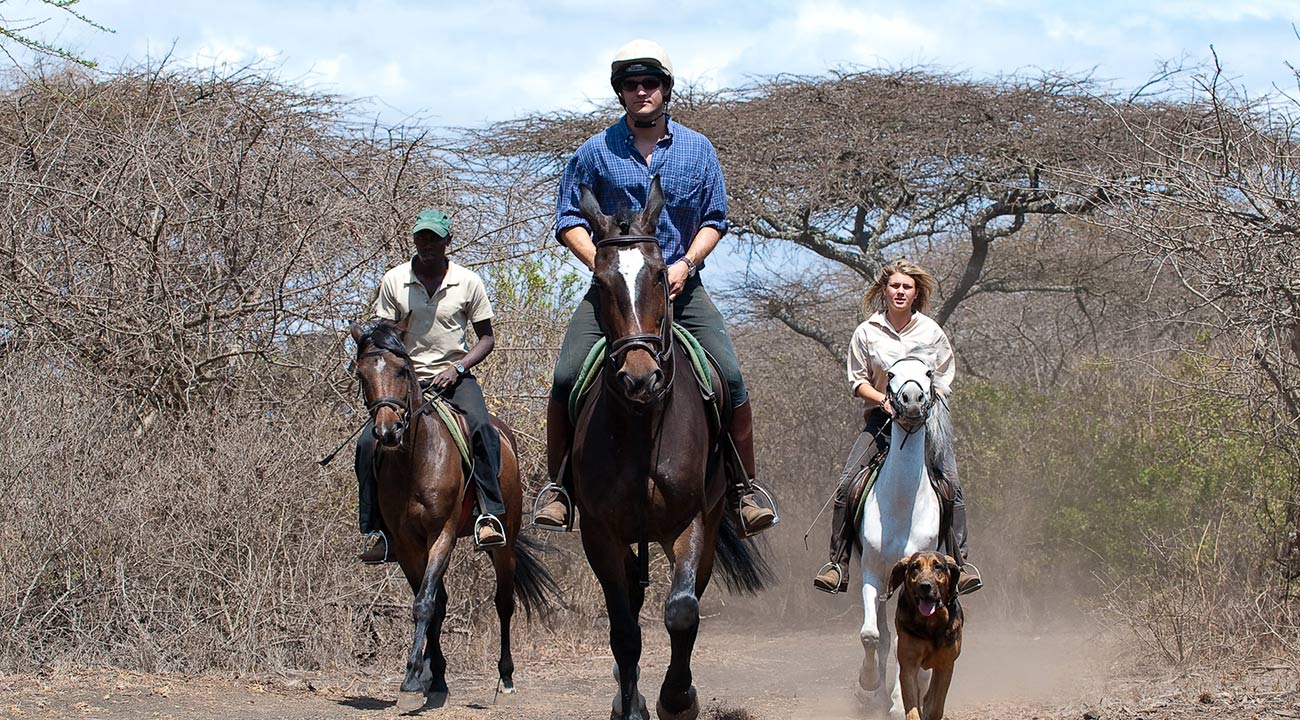 Why You Should Go On A Horseback Safari (the experiences that make it unforgettable)
You are going on a safari, how do you ensure that you make the best of your experience and make the safari extraordinary? A Horseback Safari is an exceptional safari that everybody should consider. Think outside the norm – take a different approach to the classic safari that consists of driving around in the relative safety of a 4×4 vehicle to see and photograph the wildlife. There is more to a good safari than an album full of pictures. Have you considered getting up close and personal with wildlife on a horseback safari?
The opportunity to journey through the open plains of Kenya on horseback offers an unrivaled experience to see and interact with abundant wildlife in their habitats, observe insects and plants, and absurd the stunning views. On horseback, you can make your way down a narrow gorge to discover a lush valley filled with flora and fauna. Travellers can make impromptu stops, canter between watering holes to track and observe herds of bathing elephants and buffalos. Imagine hearing the hissing snarl a lioness erupting from her hiding place in the grass – 4 meters away from you and your horse. Your horse merely flicks an ear and walks on regardless of the real possibility that at any moment you are both capable of becoming "meat on the hoof". Nowhere in the world is there a movement of animals as immense as the Great Wildebeest migration. Tens of thousands of wildlife extend as far as the eye can see, visualize getting the chance to pound across the sun-baked savannah, galloping alongside these herds while they run parallel to you for a while, then veer off…
Bordering the Indian Ocean, Kenya offers not only an array of wildlife but also some of the region's most beautiful rural scenery. As well as the classic safari experience, you can trot through small coastal villages, canter along Indian Ocean beaches and stable your horse at a different lodge or in each night. You are presented with the opportunity to see native tribesmen whose culture is dramatically different from yours in remote areas unspoiled by frequent tourist visits. Visitors who are sympathetic to the plight of the endangered wildlife can tag along with trackers and get first-hand knowledge of how to protect wildlife.
The mobile camps on all these safaris have spacious tents, fresh well-prepared food and excellent service. Guests usually ride in small groups with experienced and knowledgeable guides. Riding groups with mixed levels of competency are accommodated by allowing the group to temporarily separate at certain points on the safari. Riders that are a more competent ride at an advanced pace for longer periods and those not so confident stay within their comfort zone. Whilst many of the rides are along the open plains and game farms ideal for riding, care must be taken. Guests should be able to gallop and react quickly and safely. Remember you will be riding in areas where wildlife is abundant and although your horse will always know long before you do that there is a dangerous animal lurking in the bushes ahead, it will not hang around and if you fall off you are on your own. You need to anticipate sudden movements of your horse and know how to stay on its back.
A safari on horseback redefines the whole experience; opening up previously unseen landscapes, improving conservation efforts, providing more meaningful cultural interactions, and generally making things more interesting. The movement of the game, the dramatic seasonal changes in the flora and the varying interests of guests ensures that no two safaris are the same. On horseback, a safari becomes an intense experience with the frisson of excitement. Nothing compares to those heart-stopping moments close to the animals at top of the food chain. Horse trekking is definitely not for the faint-hearted but your ride on the wild side will definitely be the experience of a lifetime.